The International Organ Academy 2016
FROM JAN PIETERSZOON SWEELINCK TO JOHANN SEBASTIAN BACH at the Cahman (1728) and Schwan (1783) organs
Academy Director: Dr. Gary Verkade, Professor of Organ and Church Music, School of Music in Piteå, Luleå University of Technology.
(This page is also available as a PDF with contact info: IOA16)
Welcome to a summer course for those who would like to develop their ability to interpret above all North-German Baroque music. We will work principally at the Cahman Organ in Lövstabruk, a famous instrument from 1728, in original condition. The course, a cooperative initiative between the School of Music in Piteå (Luleå Technical University) Sweden, and the Music Department of Novia University of Applied Sciences in Jakobstad, Finland, will take place for the 21st time as the International Organ Academy in Lövstabruk.
The focus of the Academy in 2015 will be music from Jan Pieterszoon Sweelinck to Johann Sebastian Bach, in other words, North-European music of the entire Baroque era. Students are also encouraged to play other early music as well.
Students who have taken part in the academy have said: "We worked for three days and learned more from the Cahman Organ than we learned from our teachers in three years." This should not be taken literally, but rather as an expression of what the meeting with such a special instrument like the Johan Niclas Cahman Lövstabruk Organ (as well as the Schwan Organ of 1783) can mean. (See the chapter on this organ and the environment around Leufsta Bruk in The Organ as a Mirror of its Time, ed. Kerala J. Snyder, Oxford University Press, 2002.)
In addition we will have access to a number of historical harpsichords, clavichords and pianos available at Föreningen Klaverens hus (Foundation The House of the claviers) close to Lövstabruk.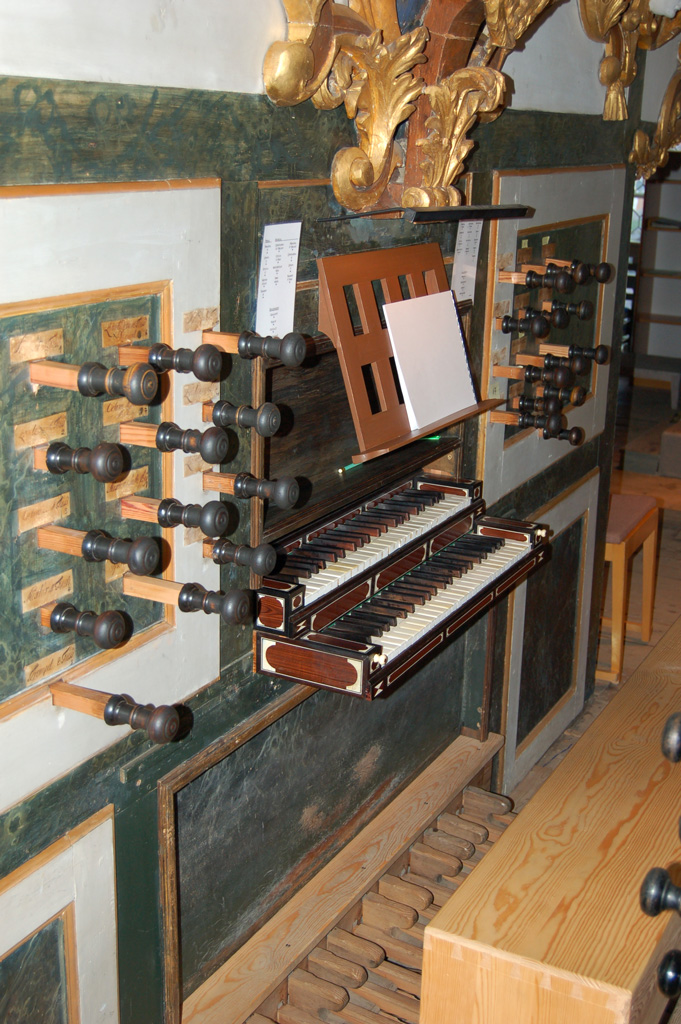 The course will take place in this unique cultural environment, 100 km north of Stockholm. Students will have the opportunity to play a Baroque organ in original condition (the Cahman Organ) and other historical instruments from the 18th and 19th centuries that are to be found nearby (for example the restored Schwan Organ of 1783 in Börstil). Lessons take place in an international master class atmosphere with teachers, students and researchers from Sweden and the rest of Europe.
Course organization
Master classes, individual practice and rehearsal at the instruments, recitals by teachers, student recital, uninterrupted discussions of questions relating to performance practice, repertory, registration, the place of music in society past and present, church music, concert music, and whatever else seems of importance will form the content of the course. The teachers are always available. The social atmosphere in the beautiful area is creatively inspiring.
Pedagogical and artistic director: Gary Verkade, Piteå
Course teachers: Pieter Dirksen, Holland; Dan Lönnqvist, Finland; Gary Verkade, Sweden
Registration
All participants should send an updated repertory list of pieces recently studied and a letter of recommendation from one's organ teacher directly to Professor Gary Verkade  (see IOA16 for contact info). Admission is restricted to the first ten participants from whom payment is received.
Payment
Bed: 300 SEK/night + 2meals/a day á 85 SEK; is payed individually to Leufstabruks Wärdshus (the Inn). Important that all participants, teachers, special guests meet at lunch and dinner for actual information and talk. Course Fee: 2000 SEK. This includes tuition, breakfast, afternoon tea. Payment information will be given by Birgitta Östlund (see IOA16 for contact info).
Questions
For further information concerning the course or registration, please contact Professor Gary Verkade. For information about living quarters, etc., please contact Birgitta Östlund (see IOA16 for contact info).
Schedule of Events
Monday, 27 June
Afternoon arrival in Lövstabruk. Planning and division of practice hours on the available organs
Evening 7:00 PM Recital, Cahman organ, Pieter Dirksen, HOLLAND
Tuesday, 28 June
Morning and afternoon seminars / master classes on the Cahman and Schwan organs
Evening practice on the Cahman and Schwan organs
Wednesday, 29 June
Morning and afternoon seminars / master classes on the Cahman and Schwan organs
Evening 7:00 PM Recital, Cahman organ, Gary Verkade, SWEDEN
Thursday, 30 June
Morning and afternoon seminars / master classes on the Cahman and Schwan organs
Evening 7:00 PM Recital, Schwan organ, Dan Lönnqvist, FINLAND
Friday, 1 July
Morning and Afternoon Practice course participants
Evening 7:00 PM Recital, Cahman Organ, course participants